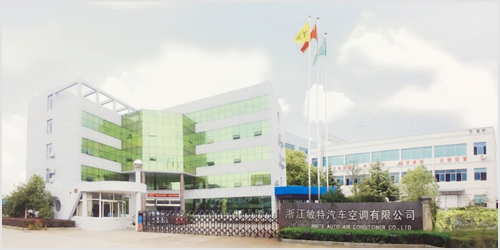 Shanghai Minte Automotive Air Conditioning Co., Ltd. is located in Shanghai, an international metropolis, and is committed to building a brand of independent automotive air conditioning thermal expansion valves. The company's product types mainly include H-type thermal expansion valves and F-type thermal expansion valves. The products have the characteristics of sensitive adjustment, long life, vibration resistance, and wide applicability. The company has established long-term cooperative relationships with GM Wuling, SAIC, Changan, Liuzhou Automobile, BAIC, Geely and many other OEMs. In recent years, the company has gradually opened up overseas markets, and its products have been exported to the United States, Europe, Latin America, Southeast Asia and other countries and regions.
  Shanghai Minte Automobile Air Conditioning Co., Ltd. has a professional production base (Zhejiang Minte Automobile Air Conditioning Co., Ltd.), which is located in Sanjiang Industrial Park, Shengzhou City, Zhejiang Province, with a superior geographical location and extremely convenient transportation. The base has more than 50 technical and management personnel with intermediate and senior titles, and an efficient management team. The company has advanced automated production equipment and scientific and complete production lines, with processing centers, expansion valve machines, helium leak detectors, error-proof detectors and other high-end testing equipment. Whether it is production facilities or research and development capabilities, it is at the leading level in the domestic industry .
  Mintel has more than 20 years of production history of expansion valves, and its annual productivity is constantly rising. Up to now, it has an annual production capacity of 4.5 million sets of expansion valves. "Mintels" have been using the phrase "keep reaction, act immediately" to continuously motivate themselves to move forward. In 2009, the company won three provincial-level new product certificates for F-type thermal expansion valve, H-type thermal expansion valve, and thermal expansion valve for large-capacity central air-conditioning. It was also approved by the Municipal Science and Technology Bureau as a "Municipal Science and Technology Research and Development Center". Research and development of new products. In 2010, the company was successively rated as "Zhejiang Province Small and Medium-sized Enterprise Technology Center"; "Shaoxing City Enterprise Research and Development Center". In 2015, it was also rated as a "provincial technology-based innovative enterprise"; in 2017, the company passed the national high-tech enterprise certification organized by the Science and Technology Department, the Department of Finance and the State Taxation Authority, and was awarded the title of national "high-tech enterprise"; the same year Become the teaching and research practice base of Shanghai Tongji University. In 2018, the company won the 2017 "Top 30 Growth Enterprises" in Shengzhou City; in the same year, it was rated as a provincial innovative demonstration enterprise.
The company has advanced production facilities, testing equipment and a scientific management system. It successfully passed the ISO9001 international quality management system certification in 2002, ISO/TS16949: 2002 international quality management system certification in 2008, and ISO/TS16949: 2009 in 2009. ; In 2018, it passed the IATF 16949:2016 management system certification.
The company adheres to the quality policy of "Pioneering and Enterprising, Striving for Famous Brands, Pursuing Excellence, and Sustainable Management", adhering to the business philosophy of "Customer First", anxious for customers' urgency, thinking about what customers think, and dedicated to providing customers with high-quality products and service.
Corporate Vision
To be the leader of China's car air conditioners

Quality Policy
Pioneering and enterprising, striving for famous brand, pursuing excellence, sustainable operation

Code of Conduct
Professionalism, integrity, innovation and efficiency

Corporate Slogan
Responsively, act immediately

Business Model
Management creates value, technology makes the future
Sales company: Shanghai Minte Automotive Air Conditioning Co., Ltd. Address: Room 916, No. 4995, Gonghe New Road, Baoshan District, Shanghai, China Tel:021-54807958
Production company: Zhejiang Minte Automobile Air Conditioning Co., Ltd. Address: No. 28, Jianger Road, Sanjiang Industrial Zone, Shengzhou City, Zhejiang Province Tel:0575-83367036
Copyright: Shanghai Minte Automobile Air Conditioning Co., Ltd. 沪ICP备14040056号-1 Website construction: www.300.cn